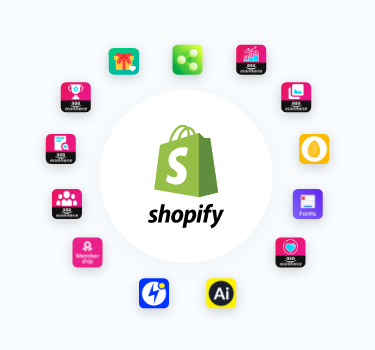 Recommended Shopify Apps
GoWebBaby recommends a list of must have Shopify apps to help you level-up your store. Take a look!

AiTrillion
AiTrillion is an all-in-one marketing platform to grow your eCommerce business.
You can use integrated modules like - email marketing, loyalty rewards program, web push notifications, product reviews, announcement bars, smart popups, product recommendations, affiliate marketing, and many more from one place.

AAA Membership + Subscription
Membership app is the simplest and easy to run membership program for your buyers. It has recurring payment option to give exclusive access, discounts, and offers to members only.

AAA Form Builder +Custom Form
Create custom forms with drag and drop builder. There are many options like file uploading, custom fields, integration with Mailchimp/ Klaviyo and take payment on form with Stripe and Paypal.

Affiliate Marketing Program
Capture high-quality leads by turning existing customers into partners. Accurately track conversions and setup different commissions for each affiliates.

Instagram Shop + Feed Gallery
Create beautiful gallery connected with Instagram profiles. Increase sales by tagging multiple products on a single image and redirect buyers to the product page.

Wishlist Advance App
This app allow shoppers to create a personalized collection of products they want to buy in future. Wishlist acts as an effective way to reduce shopping cart abandonment.

Web Push + Announcement Bar
All in one Shopify web push notifications app with announcement bar to engage, retain, and turn visitors into customers.

AAA Loyalty Rewards Program
Increase repeat purchases with advanced loyalty and referral program. It increases customer retention, conversions and boosts sales.

Gift Registry- Share Registry
Give your shoppers an easy way to ask for the presents they want. With this app, your customers can pick the gift of their choice.

Social Share Buttons and Popups
This app allows you to give offers to customers for sharing your store or products on their social media. This boosts traffic and increases the social reach of your store.

Quick View and Color Swatch
This app brings a convenient experience for your shoppers. It reduces the shopping time thus increasing sales and conversions.

Lookbook Image+ Video Gallery
This app allows you to showcase custom multiple image galleries and videos on the product page, collection page, or blog by simply adding an embed code.

Product Options + Testimonials
With this app, you get various options on product fields, testimonials, and popup forms.

Product Reviews+ Q&A Eggviews
Boost your sales and increase social proof by verified product reviews and consumer photos. This helps promote your store with authentic reviews.

Upsell + Related Products
Get the benefits of 5 apps in one single app. With this app, you can upsell and cross-sell and promote special offers.